Audiology & Hearing Aids Services
Our Services | Resources | Client Forms | Insurance | Contact Info | Staff
Last updated August 3, 2023
To make an appointment: email clinics@hsdc.org or call (206) 569-4400
All services are open by client appointment only Monday through Friday 8:30am-5:00pm — NO WALK INs. We offer both in-person and Telehealth (i.e., Zoom) appointments.
If you need hearing aid assistance, we have created a Hearing Aid Troubleshooting and Maintenance document that may help.
We look forward to seeing you!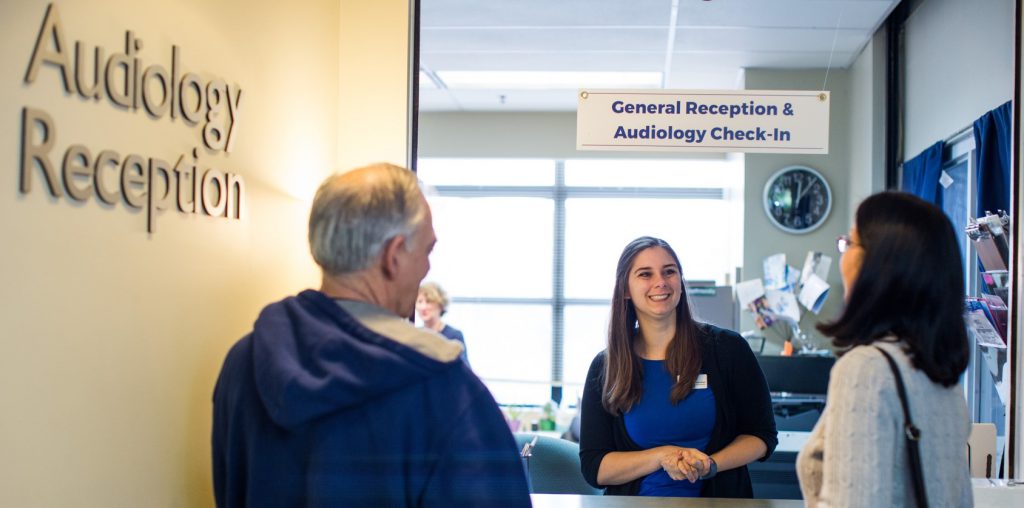 Here at HSDC, we recognize that hearing loss is often more than just hearing. It's about communication, participation, and even safety. People come to HSDC Audiology because they are missing conversations with family, a coworker's joke, or telephone rings and fire alarms. They turn down trips to the movies or the restaurant with friends, because it's too loud, too hard to hear, or not worth the effort.
If you or a loved one are beginning to suspect hearing loss, it can be a challenge to figure out where to start. We like to think of ourselves as your personal guides. We are here to answer questions and help get you to where you want to be.
Our clients value our philosophy of personalized service. You're not just a patient. You're a part of our community. With our emphasis on continuity of care, you'll get to know your provider as we get to know you.
Our Services
We see clients across the lifespan, from infants to elders (pediatric to geriatric), and across all levels of hearing loss, from mild to profound. As a nonprofit, we are able to offer access to hearing aids for all income levels, whether through our programs or through our community partners.
Our typical clients will see us for the following appointments:
We hope to renew our hearing aid walk-in hours and Communication Solutions Workshop when we can assure the safety of our clients and staff.
For clients or existing hearing aid users who need additional support at work, we also offer Work Accommodation Evaluations.
Access Sound
HSDC's Access Sound Program is a refurbished hearing aid program that provides low-cost hearing aid(s) to community members. To qualify for this program, you must:
· Reside in Washington State
· Demonstrate need for amplification in order to participate in employment, education, and/or community living
· Be ineligible for Medicaid, Department of Vocational Rehabilitation (DVR), Veteran Affairs, or private insurance hearing aid coverage.
Provided that we have devices available in stock that are appropriate for your hearing loss and communication needs, hearing aid(s) will be fit by one of our licensed audiologists using best practices. All patients will be provided with follow-up appointments over a one year period from the device fitting date, to be utilized as needed. Batteries and supplies are not included. Additional appointments after this period will include fees for service and/or repair, as warranted.
If you are interested in being added to our current waiting list for the Access Sound Program, please contact us.
Resources
Still have more questions about how to obtain a hearing aid? Struggling to cope with hearing loss? Need resources to assist in your job search? We've compiled a list of programs and organizations that can help.
Contact Info
Hours
Monday – Friday
8:30 AM – 5 PM (Appointment only)
Staff
Click on a staff member's picture to learn more about them.
Kim Jordan

Audiology Technician

Athina Maganzini, MS, CCC-SLP

Director of Clinics, Speech-Language Pathologist

Keito Omokawa, AuD, CCC-A

Audiologist

Christopher Stefanile, AuD, CCC-A

Audiologist

Sabrina Vance

Clinic Scheduler
New Patient Case History Form
Workplace Accommodation
Insurance
We accept the following insurances*:
Existing Patient Case History Form
Aetna
Amerigroup
Cigna
Community Health Plan of Washington (CHPW)
Coordinated Care
First Choice Health Network
Humana
Kaiser Permanente PPO
WA Labor & Industries
Medicare
Molina
Medicaid
Optum
Premera
Providence
ProviderOne
Regence Tricare/Triwest
United Healthcare
Vocational Rehab (DSHS)
*Plans and network coverage vary widely by individual plan. Please note it is your responsbiity as the patient to understand your plan, including your co-pay/co-insurance, deductible, coverage for services, and benefits.
If you have questions about whether we accept your insurance, please contact our Clinic Billing Specialist at clinicbilling@hsdc.org or (206) 388-1276, and we would be happy to assist you.