Working Together
Volunteers are an integral part of what we do at Hearing, Speech & Deaf Center. Whether it's working directly with clients or helping behind the scenes, volunteers are matched with HSDC staff to support our programs serving individuals with hearing and speech differences.
The majority of our volunteers come to our Seattle office, but we also accept volunteers at our Tacoma and Bellingham locations.
Learning American Sign Language (ASL)? Some of our volunteer opportunities are a fun way to practice your skills and support the local Deaf community!
Ready to apply? All volunteers must complete an online application, which includes a client confidentiality agreement and consent to a basic Washington State Patrol background check. Accepted volunteers will also undergo a more extensive background check upon placement into a particular HSDC program.
Contact us at volunteer@hsdc.org to discuss how we can work together.
Volunteer Opportunities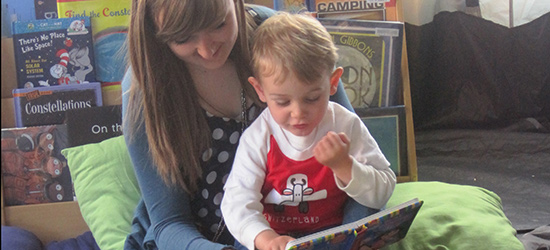 HSDC offers ongoing, quarterly, and one-time volunteer positions.
Ongoing volunteers work flexible schedules and typically assist one of the following departments: Audiology, Speech & Language, Deaf & Hard of Hearing Services, Development, and Finance.
Quarterly volunteers assist our early education services: the Parent-Infant Program (PIP) and Rosen Family Preschool.
Most one-time volunteer opportunities take place at our special events, such as Cocktails & Connections in the winter and the Froggy Fun Run in the summer.
Fluency in ASL is not necessary for many volunteer opportunities. The roles that do require conversational ASL abilities, if any, are noted in the link below.
You may visit the link below to browse standard volunteer positions at HSDC. However, our offices have not fully re-opened as of August 2020, and standard positions may not be available. To discuss your volunteer fit with HSDC, we suggest that you contact us at volunteer@hsdc.org.
Current Volunteers
Are you already a volunteer? Visit the link below to keep track of your hours in the Volgistics volunteer portal.