[image description: A screenshot of an online meeting, with six cameras. The top left shows a smiling child holding a colorful map of the US. The top middle camera shows Pamela Grossman, Director of Rosen Family Preschool, sitting on a couch. The top right camera shows Nate Elliott, Lead Teacher, with his hands raised. The bottom right camera shows Hannah Wheatcroft, Lead Teacher, looking at the camera in a car. The bottom middle camera shows a parent and child sitting on a couch. The bottom left camera shows a parent looking at the camera.]
---
Rosen Family Preschool is closed for at least the next five weeks due to the coronavirus, but the staff hasn't let that stop them from delivering the preschool's bilingual curriculum to the students. The teachers are developing online programs that support Rosen Preschool families, and sharing some of their work with the world to benefit other families who have households with young Deaf and hard of hearing children, or hearing children who use sign language.
The first step on the journey was inviting all of the Rosen Preschool families to an online meetup so they could see each other's faces and connect. Students brought their pets onscreen to say hello, shared their favorite toys, and tried on costumes. Everybody signed together and agreed to meet again soon.
Next, the teaching team set up one-on-one meetings with each family to assess their needs. Over two days, they collected data. What support and educational materials are needed? How can they maintain the community in a way that adds value at home? How can they share strategies for families to have fun together and learn in naturally engaging ways? Is there equitable access for all?
Using the data they collected, the teachers are planning creative and innovative ways of meeting the following goals:
To offer the opportunity for families to keep practicing their sign language skills.
To offer ongoing learning experiences.
To maintain stability, calm, and connection.
To engage and support families.
The first round of offerings will include the following activities:
Twice a week, scheduled live meetups with the whole class.
Teacher-produced videos of some of our favorite storybooks.
Book-related activities that families can set up at home.
Short, fun videos featuring our Classroom Assistant & Teaching Artist, Sam, and his creative bag of tricks.
Teacher-produced videos about the Reggio-Emilia approach to education, explaining to parents how to weave this type of learning into everyday life.
A parent and community book club based on the book No Drama Discipline by Daniel J. Siegel and Tina Payne Bryson.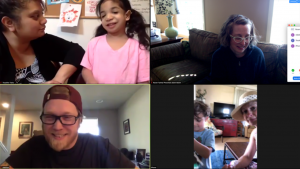 Rosen Family Preschool will share these opportunities with student households using an internal family communication app. In addition, they plan to launch an HSDC Family Room initiative with two social media channels that will offer education and information to a broader audience. The Family Room initiative will serve the dual purpose of helping the currently enrolled Rosen Preschool and Parent-Infant Program families, and expanding HSDC's scope to serve and nurture as many signing families in the Puget Sound Area as we can.
During this time of uncertainty, the Deaf community is coming together to offer language-rich opportunities online for kids at home. Rosen Family Preschool will be participating in the hashtag #OperationASLStorytime to share their favorite resources with families.
These are challenging times. We hope to show our children and the community that challenges can offer opportunities to be creative thinkers and problem solvers.
Rosen Family Preschool is a bilingual classroom featuring American Sign Language and English. Visit our webpage to learn more about our services and if your child would be a good fit.