Contents
My Deaflympics Experience
by Hannah Wheatcroft, Lead Teacher, Rosen Family Preschool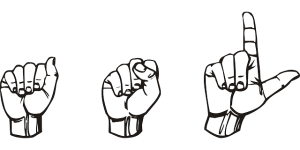 Click the video above for an ASL translation of this article.
I want to share a story about my US Deaflympics snowboarding team. There were three men and three women on the team, and we made the trip to Italy with other US Deaflympics competitors.
It was really a wonderful experience. We hung out with people from many different countries, like Japan, Russia, Korea, Germany, Austria, Italy, Sweden…the list goes on. We used International Sign Language, to communicate with each other. The camaderie, culture, and food made for a beautiful experience.
It was also enriching to meet the international snowboarders. That was my favorite part. We were all from different countries, with different languages and cultures, but we shared our love for snowboarding. It was amazing to snowboard together and get to know them.
The competition was exciting. There were three different snowboarding events. Boardercross is a timed race, with four snowboarders per heat, eliminating each other to see who is the fastest. With Slopestyle, there are different features set up on the course, like a jump, box, or pipe. Judges score the best tricks by rating how challenging they are, how high the competitor jumped, and other criteria. The best score wins. Big Air is a single jump high in the air, with the opportunity to do your best tricks.
It was a great experience. Every snowboarding event had bad weather, but that actually made them more interesting and challenging, trying to figure out how to adapt. America brought six gold medals home, including snowboarding and hockey.
COVID-19 and Xenophobia
With so many things being cancelled because of COVID-19, we decided that it wouldn't make sense to list any events this month. Instead, we encourage you to learn about the xenophobia and racism that is spreading during this challenging time. You can help by educating people on why it's wrong to direct their fears toward people of Asian descent, and by supported Asian-owned businesses.
February: Black History Month — Galveston and Juneteenth
by Buddy Elledge, Graphic Design & Marketing Coordinator, DHHS Program Assistant
ASL video coming soon!
As I went through old photos from my childhood in Texas, a big wave of happy memories came over my soul and I smiled. Galveston, Texas has a special place in my heart. On summer weekends, my family and I would drive an hour from Houston to my aunt and uncle's beach house in Galveston.
I remember sitting in the back of my dad's old burnt orange and white suburban with my sister on the Gulf Freeway. When we saw the water, we put the window down and smelled the salty air, felt the sun shining on our faces. We would get on a golf cart and drive to the beach for swimming, boogie boarding, and drinking Slurpees. It was a sweet childhood memory. Then my smile disappeared as I remembered the South's dark history.
Juneteenth. When I learned about it few years ago, I felt conflicted and frustrated about the fact that I didn't know of Juneteenth in school, while I did learn about the Texas Revolution and other wars won by white people.
What is Juneteenth? It's also known as Freedom Day. Galveston was the last city to free their slaves on June 19, 1865—two years after Abraham Lincoln issued the Emancipation Proclamation in 1863. Yes, they only found out two years after the announcement.
Here's my question: why are a lot of my friends unfamiliar with Juneteenth? Why are schools are closed for Columbus Day, so we can celebrate European settlers who "discovered" the New World at the beginning of an era of transatlantic slave trade and played a part in the deaths of millions from murder and disease? We celebrate Independence Day on July 4th, but does it have the same meaning for people who were still enslaved on that day? No.
Going through old photos, I found an old letter from a family friend inside an album book. She wrote, "Thank you for your Southern Hospitality!" I wonder if she knows where "Southern Hospitality" comes from.
Heavy stuff, I know, but it's important to talk about it—the more we talk about it, the more awareness we spread! Keep learning, and while you're at it, support Black-Owned businesses!
March: Women's History Month
March is Women's History Month. Take some time to learn about some women of color who were true trailblazers and watch a video op-ed about why we need a Women's History Month.
Deaf Women of Color and Deaf Women United are spotlighting amazing Deaf women on their social media accounts during March. Check them out!