[image description: Two adults and one child sitting in a classroom. The adult on the left has short, spiky light brown hair with light skin and a dark gray sweater. They are sitting with the child, who has short, straight blonde hair with a gray sweater. The person on the right has brown hair down to their shoulders and light skin, with a black blouse.]
Imagine a world without communication barriers.
As friends, family members, coworkers, and allies, we all have the ability to make the world a more inclusive, accessible place.
When we erase communication barriers for people who are deaf, hard of hearing, or have speech differences, the world gains access to their wisdom, creativity, compassion, and spirit. With a financial investment, we can live in a world enrichened by community members who have a unique perspective on life and communication.
When you give to HSDC, you support programs like Rosen Family Preschool, the only preschool in King County with a fully immersive classroom that teaches both American Sign Language (ASL) and English. For deaf hard of hearing, and hearing children, that means a language foundation that will last a lifetime. For deaf and hard of hearing parents, it means fostering a healthy household.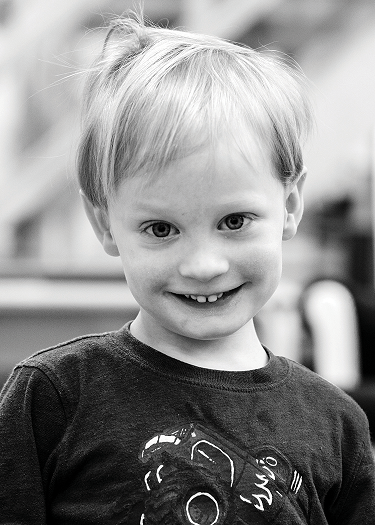 Meet Katie, Kris, and Fitz. A Deaf teacher and a hearing sign language interpreter, Katie and Kris use sign language to communicate at home. Their son Fitz, who is hearing, is in the critical period of language development for a young child. Katie and Kris want him to have a foundation in ASL and English so that he can communicate with his mom and reap the benefits of bilingualism.
"Kris and I felt it was important that Fitz learned both ASL and English, regardless of his being deaf or hearing. Being bilingual is really beneficial for children. It's a huge benefit to their mental and emotional development." says Katie. They marveled at how Fitz's sign language skills took off after enrolling. "There's nothing else like it in Seattle," Katie says. "Fitz loves the teachers and loves Rosen Family Preschool. He's excited to come to school and happy here."
This is just one example of how HSDC serves the community. Our programs help children, adults, and elders of every age communicate with confidence, no matter their communication style or ability to pay.
Your gift could help families like Kris, Katie, and Fitz continue to grow into a happy, healthy household without language barriers. Together, we can create a more inclusive, accessible world.
It starts with you.
Sincerely Yours,


Lindsay Klarman
Executive Director
P.S. Send your gift today. Every moment is an opportunity to create accessible communication at home, school, work, and in the community.