[image description: Bart Williams and Trevor Ennis smiling for a picture in front of a beige wall. Bart is on the left: tall, dark-skinned, masculine-presenting with close-cropped hair, a dark beard, white shirt, and blue vest. On the right is Trevor: light-skinned and masculine-presenting with short brown hair, a grey suit, and a light blue shirt.]
How HSDC and Safeway Worked Together
This past September, HR representatives from Safeway districts across Washington State gathered in Seattle for a training seminar. The topic? Deaf Culture and access in the workplace.
The training was organized by Trevor Ennis, the Human Resources Director for Safeway's Seattle division. After getting his start as a part-time grocery clerk in college, Trevor participated in the Safeway leadership development training program and rose through the ranks. He now oversees human resources operations for 220 stores around the Pacific Northwest, including Alaska.
A coworker recommended Hearing, Speech & Deaf Center to Trevor based on a previous experience with our Bellingham office. Soon after he got in touch, HSDC's Director of Community Engagement, Bart Williams, traveled to Safeway's Seattle headquarters with James "Dino" Christianson, a Client Advocate from HSDC Bellingham.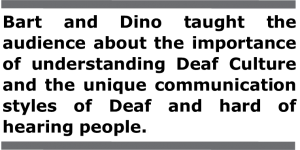 Bart and Dino taught the audience about the importance of understanding Deaf Culture and the unique communication styles of Deaf and hard of hearing people. Their energy level and positivity made the room feel at ease, and they assured everybody that the seminar was a safe space to learn. "Bart was phenomenal," says Trevor. Feedback from the audience was overwhelmingly positive. Many attendees agreed that the training would be useful for their work. As human resources representatives, they can take the lessons they learned back to their districts and teach individual stores.
Safeway's HR department has already put those lessons into action. They've made their job application portal more accessible by adding a link and phone number that will allow applicants who are Deaf, hard of hearing, or have other disabilities to more easily request accommodations.
Safeway has partnered with HSDC to secure American Sign Language interpreters for Deaf of hard of hearing applicants going through the interview process, and for employees who attend training or other business meetings. "HSDC Interpreting Services has been top-notch," said Trevor. "I don't think I've ever worked with a company that responded to so many of my requests in less than an hour." Safeway has several deaf or hard of hearing team members who are candidates for supervisor and manager roles. Trevor is excited to know that he now has the tools to support their success.
Bart says that "Trevor was great to work with because he was so open-minded and willing to learn. I really enjoyed the experience." HSDC is proud to work with companies that want to make the world a more inclusive, accessible place for their Deaf and hard of hearing customers, patrons, and employees. If every organization in the Puget Sound can follow their lead, we'll be in good shape.
Do you want a training seminar for your organization? Contact us at outreach@hsdc.org to discuss your options.