Service Updates
UPDATED: January 4, 2023
Center Hours (Bellingham, Seattle & Tacoma) | Monday – Friday | 8:30 AM – 5:00 PM
All locations of HSDC are open if you need any assistance or need to use the public VP.
Audiology is currently offering IN-PERSON appointments. | Monday – Thursday | 8:30 AM – 5:00 PM
Speech and DHHS are open by CLIENT appointments only.
We will be happy to set up appointments for you. NO WALK INs.
LATEST NEWS:
Meet HSDC's New Co-Directors, Ariele Belo and Lindsay Klarman
Learn about HSDC's new Co-Directors, Ariele and Lindsay's ideas and goals for the future of HSDC. READ FULL ARTICLE HERE
Events
Check again for our upcoming events in 2023!
Thank you for joining us for Cheers & Connections 2022! | WATCH THE EVENT
Who We Are
Hearing, Speech & Deaf Center (HSDC) is a resource hub redefining language and communication. Our multi-dimensional approach is driven by Deaf Culture and Sign Language and benefits the diverse community we share our lives with everyday.
HSDC is a nonprofit organization serving the Puget Sound area. We foster accessible communities through communication, advocacy and education. We offer services for people who are Deaf, hard of hearing or have speech/language differences as well as their families and friends. We also offer trainings for organizations that wish to better serve Deaf and hard of hearing community members.
Services We Provide
Hearing, Speech & Deaf Center offers a comprehensive array of services including, but not limited to, those listed below.
Equity Commitments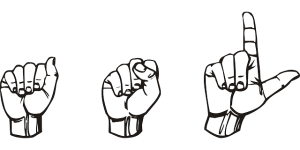 Watch the video above for an ASL translation.
---
Hearing, Speech & Deaf Center (HSDC) commits to implementing anti-racist and anti-audist practices based on recommendations from the HSDC Equity Team. We understand the work for Racial & Social Justice is never done and there are always opportunities to do more. It is our responsibility to do all we can to support BIPOC and people who are Deaf, DeafBlind, hard of hearing, and have speech diversity.
We will commence with these commitments immediately and begin with 11 intentional actions, with the help of outside experts from the BIPOC and Deaf communities.
Latest Video
Check out the latest video from our Video Blog.
News & Updates
HSDC in the News