What We Do
Ned Behnke Speech-Language Preschool provides a unique language-rich environment for young children, in which students are immersed in a classroom with a variety of activities designed to cultivate their language and literacy skills, preparing them for kindergarten. This environment is especially beneficial for children with speech delays or disorders such as apraxia, autism, social language delay, or specific language impairment.
Behnke is open four days a week at HSDC's Seattle office, and child care is offered before and after school hours.
Curriculum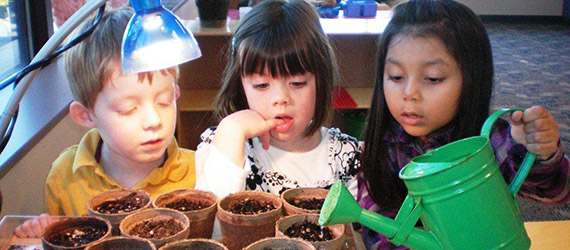 Behnke Preschool's curriculum is progressive and emphasizes development and multi-sensory learning. Activities and features include:
Classroom decorated with periodic themes to engage students in their learning
Weekly "Behnke Bulletin" newsletter outlining targeted skills, vocabulary, and activities
Quarterly individualized progress report outlining strengths and weaknesses in speech, cognitive, and literacy areas
Biannual one-on-one parent-teacher conferences
Weekly large and small group activities focusing on language and pre-literacy skill development
Pull-out speech-language therapy (when appropriate)
Enrollment
Ready to learn more? Come see our classroom! This gives you and your child the opportunity to meet the teachers, director, and speech therapists, tour the classroom, and find out if our school is the right fit for you and your family. Meet and greets are typically scheduled after school hours Monday-Thursday, around 5:00 pm, and last 15-20 minutes.
Tuition for Behnke Preschool is paid quarterly. Families in Seattle may be eligible for tuition assistance from the Seattle Preschool Program.
Scholarships and payment plans are available for families who need assistance, and pull-out speech therapy appointments can often be paid through insurance. Contact us to learn more.
Currently Enrolled Families